Alpine flowers of the Swiss Alps. This one-day course will give you confidence to identify Swiss alpine flowers. It will demystify the jargon behind flower identification books and help you become a more informed leader and also to prepare you for an IML assessment if you're not yet qualified. The course will also look at the broader environment to develop your understanding of alpine geology, tectonic activity and land use. The course will be run in a non-residential capacity.
The field site has been selected due to the wonderful limestone floral diversity. It is an easily accessible site with good altitudinal and habitat diversity. The pace of the course is intentionally leisurely as clients regularly take photos and spend time making notes along the way.
Arrive at 9am to register. We will meet at Boulangerie Charlet, Place de la Barboleuse 10, 1882 Gryon and car-share to Solalex (4km). The course finishes about 5pm.
The course will be led in the outdoors – please bring pen and paper, camera, appropriate clothing and footwear and a packed lunch and liquids for a mountain day. There is a buvette at Solalex and also at Anxeinde where refreshments can also be bought.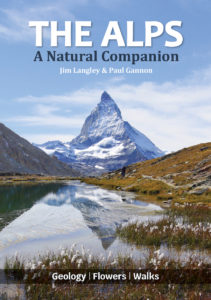 The course will be run by Jim Langley. Check my courses on EventBrite

You can expand on this workshop by reading my book The Alps a natural companion